I had to think a little bit before figuring out my choices for today. Here they are: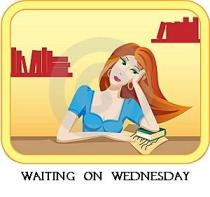 Waiting on Wednesday is a weekly blog post by Jill over at Breaking the Spine, that spotlights releases we're eagerly awaiting.
Title: Onyx
Series: Lux
Author: Jennifer L. Armentrout
Expected publication date: May 15th, 2012
Summary:
Being connected to Daemon Black sucks…

Thanks to his alien mojo, Daemon's determined to prove what he feels for me is more than a product of our bizarro connection. So I've sworn him off, even though he's running more hot than cold these days. But we've got bigger problems.

Something worse than the Arum has come to town.

The Department of Defense is here. If they ever find out what Daemon can do and that we're linked, I'm a goner. So is he. And there's this new boy in school who's got a secret of his own. He knows what's happened to me and he can help, but to do so, I have to lie to Daemon and stay away from him. Like that's possible. Against all common sense, I'm falling for Daemon. Hard.

But then everything changes…

I've seen someone who shouldn't be alive. And I have to tell Daemon, even though I know he's never going to stop searching until he gets the truth. What happened to his brother? Who betrayed him? And what does the DOD want from them—from me?

No one is who they seem. And not everyone will survive the lies…
Why I can't wait for it: Because!!!! If you read obsidian, you sure know what I'm talking about! May can't come fast enough!!!
and...
Title: Taken
Series: The Channie Series
Author: Charlotte Abel
Expected publication date: January 26th, 2012
Summary: I couldn't find any summary, just praise :(
Author of the Year 2011 -- "The Lovely Books" Review Blog

Early Praise for Taken:
"The chase scene was to die for ... I literally got chills." -- Karla Hernandez


"Hunter was hilarious and so cute! I laughed out loud at everything he did." -- Jessica Ramirez


"I loved Taken. I couldn't put it down!" -- Samantha Scribner

Overview:
Bound by love and magic. Betrayed by those they trust. Not everyone survives.

Gasp-out-loud action, heart-pounding romance and an OMG ending that leaves you hungry for the next book.

More Praise:
"If you thought Enchantment was a fluke, you're dead wrong. Charlotte Abel has proven she can stand the heat and keep producing magical adventures for her fans to get lost in. I plan to have a front row seat" -- Nicole Passante
Why I can't wait to read it: Well, I'm almost done with the first installment, "Enchantment" and it's really good. The ratings for Taken are even better, so I've requested an ARC :)
How about you? What books are you waiting on this week??