Guess what!! Today is Valentine's day and I'll be hosting a giveaway!! Well, no it won't be necessarily under this bright day's motto, it will be on account of my 100+ followers. But still, it has to count for something, right?
Here's the list of books I've managed to read and review last week, and I daresay I'm proud of myself for completing my to-read least for the week:
Review of WARRIORS OF THE CROSS by T.R. Graves
Review of THE STUTTERING TATTOO by Greg Logsted
Review of TRICK OR TREAT by Richie Tankersley
Review of TAKEN by Charlotte Abel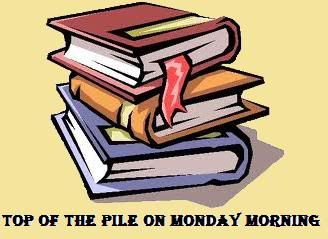 "Top of the Pile on Monday Morning" is a weekly MEME hosted by Vanya D. here on YA Story Teller. It features up to three books that I plan to read for the week.
I am hosting this new MEME, featured every Monday. If you want to participate, you need to do the following things:
1. Either grab the button or paste the MEME in your post;
2. Tell us about the books you're planning to read this week. Include a picture of them. A blurb (or summary) is not necessary, though if you feel like it, you may certainly share it. Please make this a realistic choice, as we wouldn't want to see repeating titles.
3. Let us know why you chose those books exactly.
4. Follow your host, and register in the links below this post.
Thanks!!!
My choices for this week are:
Book #1:
Title:me@you.com
Series:none
Author:KE Payne
Summary:Is it possible to fall in love with someone you've never met? Imogen Summers thinks so – because it's happened to her.
Immy is a normal 18 year old, with a normal life, a normal family and a normal boyfriend. But when she finds herself falling for a girl on an internet message board, a girl she knows only as the mysterious Fickle, her so-called normal life is suddenly turned on its head.
As her relationship with Fickle develops into more than just friendship, Immy finds another message board friend, the sweet and lovely Joey, the perfect person to confide in. But can Joey stay out of it when she starts to fall for Immy herself? Things are about to get complicated...
Why I want to read it: I requested it from Netgalley because it sounded good.
Book #2:
Title: Bleed for Me
Series: Joseph O'Loughlin #4
Author: Michael Robotham
Summary: Ray Hegarty, a highly respected former detective, lies dead in his daughter Sienna's bedroom. She is found covered in his blood. Everything points to her guilt, but psychologist Joe O'Loughlin isn't convinced.Fourteen-year-old Sienna is Joe's daughter's best friend ? Joe has watched her grow up and seen the troubled look in her eyes. Against the advice of the police, he launches his own investigation, embarking upon a hunt that will lead him to a predatory schoolteacher; a conspiracy of silence and a race hate trial that is captivating the nation.With dark psychological twists and heart-stopping tension, Bleed For Me is a page-turner thriller and undoubtedly Robotham's best yet.
Why I want to read it: Because it sounds like a good read, and I love me some mystery :))
Book #3:
Title: The New Death and Others
Series: none
Author: James Hutchings
Summary:
Death gets a roommate...

An electronic Pope faces a difficult theological question...

A wicked vizier makes a terrible bargain...

44 stories. 19 poems. No whiny vampires. There's a thin line between genius and insanity, and James Hutchings has just crossed it - but from which direction?
Why I want to read it: Because the author requested my review. Besides, short stories are kind of fun to read. I won't be reading the poems though.