Okay, it's that day of the week again. The new day, the first day, the Mon-day. The jolly weekend is over and we have to go back to school/work/whatever again. Last week was shorter for me, but not for a good reason. I got a cold that nailed me to the bed on Friday, and I was only able to get up after 1pm!!! It was horrible, and thank God I'm feeling much better today!
So, I know I posted 3 books on my last week's reading list, but I only got around reading 2 of them. Not because I didn't want to read A third book, just not the one I'd picked. Unfortunately, it was a Netgalley review book, so I had to apologize for declining it (after I'd accepted it). But, it just wasn't for me. I honestly couldn't read it.
Well, with all that said, here are the links to my reviews of the other two books:
Review of THE NEW DEATH AND OTHERS by James Hutchings
Review of BLEED FOR ME by Michael Robotham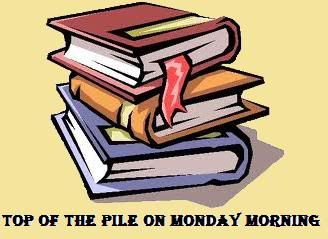 "Top of the Pile on Monday Morning" is a weekly MEME hosted by Vanya D. here on YA Story Teller. It features up to three books that I plan to read for the week.
I am hosting this new MEME, featured every Monday. If you want to participate, you need to do the following things:
1. Either grab the button or paste the MEME in your post;
2. Tell us about the books you're planning to read this week. Include a picture of them. A blurb (or summary) is not necessary, though if you feel like it, you may certainly share it. Please make this a realistic choice, as we wouldn't want to see repeating titles.
3. Let us know why you chose those books exactly.
4. Follow your host, and register in the links below this post.
Thanks!!!
This week I'm going for the following titles:
Book #1:
Title: My Enchanted Life
Series: None
Author: Laura Eno
Summary:
An American teen finds herself thrust into a world she never knew existed in England's magical community of Wode Gate. While dealing with gnomes, a cranky dragon, murder and mayhem, Emma tries to cope with her unwanted duties as Sentinel and fights to get back home again.
She finds that things aren't always what they seem, people aren't who they pretend to be, and someone wants her dead. The king of the underworld wants her too, but he may be the least of her problems as Emma struggles to control her powers—while losing her heart to a demon.
Why I want to read it: I got this one from R2R on Goodreads group Paranormal Romance/Urban Fantasy. I'm already 20+% in and so far it's a very nice light read.
Book #2:
Title: Solitary
Series: Solitary Tales Book 1
Author: Travis Thrasher
Summary:
His Loneliness Will Soon Turn to Fear.... When Chris Buckley moves to Solitary, North Carolina, he faces the reality of his parents' divorce, a school full of nameless faces--and Jocelyn Evans. Jocelyn is beautiful and mysterious enough to leave Chris speechless. But the more Jocelyn resists him, the more the two are drawn together. Chris soon learns that Jocelyn has secrets as deep as the town itself. Secrets more terrifying than the bullies he faces in the locker room or his mother's unexplained nightmares. He slowly begins to understand the horrific answers. The question is whether he can save Jocelyn in time. This first book in the Solitary Tales series will take you from the cold halls of high school to the dark rooms of an abandoned cabin--and remind you what it means to believe in what you cannot see.
Why I want to read it: Well, I got it from Netgalley to review, and the summary sounds intriguing :)
Book #3:
Title: Pure
Series: Pure
Author: Julianna Baggott
Summary:
We know you are here, our brothers and sisters . . .
Pressia barely remembers the Detonations or much about life during the Before. In her sleeping cabinet behind the rubble of an old barbershop where she lives with her grandfather, she thinks about what is lost-how the world went from amusement parks, movie theaters, birthday parties, fathers and mothers . . . to ash and dust, scars, permanent burns, and fused, damaged bodies. And now, at an age when everyone is required to turn themselves over to the militia to either be trained as a soldier or, if they are too damaged and weak, to be used as live targets, Pressia can no longer pretend to be small. Pressia is on the run.

Burn a Pure and Breathe the Ash . . .
There are those who escaped the apocalypse unmarked. Pures. They are tucked safely inside the Dome that protects their healthy, superior bodies. Yet Partridge, whose father is one of the most influential men in the Dome, feels isolated and lonely. Different. He thinks about loss-maybe just because his family is broken; his father is emotionally distant; his brother killed himself; and his mother never made it inside their shelter. Or maybe it's his claustrophobia: his feeling that this Dome has become a swaddling of intensely rigid order. So when a slipped phrase suggests his mother might still be alive, Partridge risks his life to leave the Dome to find her.

When Pressia meets Partridge, their worlds shatter all over again.
Why I want to read it: I've seen this book around, heard some really good things about it. And I was so happy when my Netgalley's request was approved!!! Yay!! I get to read it this week!!!
How about you? What books are you reading this week??
Oh, and a quick reminder!! My giveaway is still running!!! You have time till the 29th to sign up for a chance to win a book of your choice!! Just check out the list here Have fun y'all!!!