Right, so I'm late again posting this, but it's still Monday, so it should count.
Here is a quick recap of my reading last week, and the links to my reviews:
Review of PURE by Julianna Baggott
Review of SOLITARY by Travis Thrasher
Review of MY ENCHANTED LIFE by Laura Eno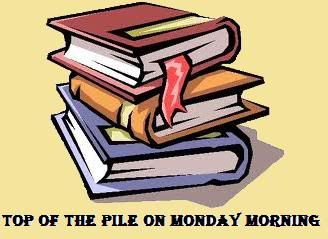 "Top of the Pile on Monday Morning" is a weekly MEME hosted by Vanya D. here on YA Story Teller. It features up to three books that I plan to read for the week.
I am hosting this new MEME, featured every Monday. If you want to participate, you need to do the following things:
1. Either grab the button or paste the MEME in your post;
2. Tell us about the books you're planning to read this week. Include a picture of them. A blurb (or summary) is not necessary, though if you feel like it, you may certainly share it. Please make this a realistic choice, as we wouldn't want to see repeating titles.
3. Let us know why you chose those books exactly.
4. Follow your host, and register in the links below this post.
Thanks!!!
This week I'm going for the following titles:
Book #1:
Title: Starters
Series: Starters #1
Author: Lissa Price
Summary:
Callie lost her parents when the Spore Wars wiped out everyone between the ages of twenty and sixty. She and her little brother, Tyler, go on the run, living as squatters with their friend Michael and fighting off renegades who would kill them for a cookie. Callie's only hope is Prime Destinations, a disturbing place in Beverly Hills run by a mysterious figure known as the Old Man.

He hires teens to rent their bodies to Enders—seniors who want to be young again. Callie, desperate for the money that will keep her, Tyler, and Michael alive, agrees to be a donor. But the neurochip they place in Callie's head malfunctions and she wakes up in the life of her renter, living in her mansion, driving her cars, and going out with a senator's grandson. It feels almost like a fairy tale, until Callie discovers that her renter intends to do more than party—and that Prime Destinations' plans are more evil than Callie could ever have imagined. . . .
Why I want to read it:

Because the cover is beautiful and the story sounds good. I just hope the length doesn't weigh me down.
Title: The Nightmare Garden
Author: Caitlin Kittredge
Summary:
Everything Aoife thought she knew about the world was a lie. There is no Necrovirus. And Aoife isn't going to succumb to madness because of a latent strain—she will lose her faculties because she is allergic to iron. Aoife isn't human. She is a changeling—half human and half from the land of Thorn. And time is running out for her.

When Aoife destroyed the Lovecraft engine she released the monsters from the Thorn Lands into the Iron Lands and now she must find a way to seal the gates and reverse the destruction she's ravaged on the world that's about to poison her.
Why I want to read it:

I requested it from Networked blogs because it sounded great. I hope that it wouldn't matter that I haven't read book 1 yet. *sigh*
Summary (actually it's an excerpt, there's no summary available for this title):
Following the sound of the blender into the kitchen, I jiggled the pharmacy bag under my dad's nose.
He turned off the blender. "That our meds?"
I was having a hard time keeping a straight face. He was dressed in a dazzling green polyester slacks and a white shirt with a big collar. The seventies were all over the pages of Vanity Fair and Vogue, but somehow the retro look didn't quite translate to sixty-eight-year old men with thinning gray hair and jug-handle ears. I cringed at the matching lime green suit jacket hanging on the back of the chair.
I put the bag on the table, drawing out one small bag for him and another for his buddy, Spike.
"Okay. Heart meds, Lasix, arthritis pills, and Spike's crazy pills."
"He can hear you, you know."
I looked down at the small brown Chihuahua, his tail beating an uneven rhythm in time to some inner demon. When he lifted a lip and snarled, I said, "And not a minute too soon, I see. When do you think the vet will take him off the Prozac?"
My dad uncapped the bottle and tipped out a pill. The dog's ears went up in trembling anticipation. "He's much better, don't you think?"
I studied the floor trying to find something kind to say about our resident Cujo, then got an eyeful of my dad's shoes. He followed my stare down to his feet. "White for summer, right? They're already patent leather so I don't have to polish 'em. Lucky for me, huh?"
I worked my lips around the laughter bubbling up, imagining my father in retro style leisure suit, escorting his latest squeeze to a potluck at church, or better yet –a funeral and its wake. I slid a glance at the blender looking for a reasonable topic of conversation, but since the frothy blue concoction might or might not have Viagra as its key ingredient, I blurted, "You need a haircut!"
Why I want to read it:

honestly? Well, I just joined the WLC review team this month and the rules state that I have to review at least one book per month to stay on their team. This one seemed the shortest, yet the most interesting of the lot, so I grabbed it :)) Let's hope it's a keeper :)
How about you? What will you be reading this week??