Another freaky Monday has come our way, and like usual, I want to share with you my designated reading titles for the week. To be honest, this time I might not be able to finish all of them, because I've got an exam coming up on Saturday. But I'll do my best. Promise :))
Before that however, let me share the links to the books I read and reviewed last week:
REVIEW OF ENCHANTMENT by Charlotte Abel
REVIEW OF INVASION by Jon S. Lewis
REVIEW OF ALIENATION by Jon S. Lewis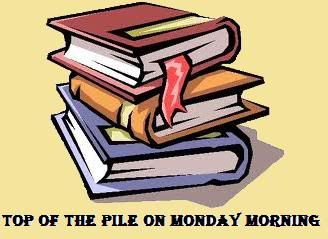 "Top of the Pile on Monday Morning" is a weekly MEME hosted by Vanya D. here on YA Story Teller. It features up to three books that I plan to read for the week.
I am hosting this new MEME, featured every Monday. If you want to participate, you need to do the following things:
1. Either grab the button or paste the MEME in your post;
2. Tell us about the books you're planning to read this week. Include a picture of them. A blurb (or summary) is not necessary, though if you feel like it, you may certainly share it. Please make this a realistic choice, as we wouldn't want to see repeating titles.
3. Let us know why you chose those books exactly.
4. Follow your host, and register in the links below this post.
Thanks!!!
My choices for this week are:
Book #1:
Title:
Warriors of the Cross
Series:
The Warrior Series
Author:
T.R.Graves
Summary:
Allison La Crosse, beginning a challenging family medicine residency, leaves the protection of her family. With the transfer, her worst nightmares come true. Her closely guarded mystical talents – those which seldom appeared before the move – unleash themselves from her confinement and reveal their presence with very little provocation.

Allison's most terrifying power is her compulsion to cure the dying with her touch. Given her career, this gift would be valuable if she were not drawn like a magnet to the ailing person's every symptom. Some of which are fatal.

At the hospital and surrounded by life-and-death emergencies, Allison's inability to manage her impulse turns deadly. When it does, her mentor, Brody, rescues her from her own demise. His resuscitation ignites an exciting and tempestuous bond between them.

Desperate for a cure, they join forces and embark upon a journey to uncover the origins of Allison's lethal curse. In the midst of their adventure, Allison exposes a secret pursued by many…known by few.
Why I want to read it: Because I love paranormal books, and this one definitely sounds like a good read. Also, it's on my R2R list ;)
Book #2:
Title: Trick or Treat
Series: Point Horror
Author: Richie Tankersley Cusick
Summary:
A young girl is tormented by her new house's terrible past

Martha wants to be happy for her father. She likes his new wife—even if she's a terrible cook—but she doesn't understand why they had to leave Chicago and move to this horrible house in the country. It's big, broken-down, and miles from anywhere, alone in the woods with nothing on the property but an overgrown cemetery. But at night it doesn't feel empty. Conor—her new, weird stepbrother—chose Martha's new room for her. It's dark and drafty, and no matter how she tries to fix it up, she can't sleep easily there. At night, whispers come from the closet, filling Martha with a sense that something terrible happened here. She's right. Not long ago, the house was the site of a gruesome murder. When Conor and Martha's parents leave town on their honeymoon, the two teens will find out why the dead don't rest easy at the old Bedford house. This ebook features an illustrated biography of Richie Tankersley Cusick including rare photos and never-before-seen documents from the author's personal collection.
Why I want to read it: I love a creepy ghost story. I just hope this isn't a sequel dependent on the previous 5 installments, cuz I haven't read any of them.
Book #3:
Title: The Stuttering Tattoo
Series: none
Author: Greg Logsted
Summary:
Steven Bishop is extraordinarily ordinary. He goes to school. He rides his motorcycle. He stutters. His best friend is a former Colombian cartel hit man turned cook/construction worker. You know, ordinary. All that changes the day Becky Moore walks into his classroom. Becky is dazzling, enigmatic.
One day Steven gives Becky a ride home on his motorcycle. There, they discover a severed arm, one of the fingers of which still has an unusual ring attached: a circle, in the middle of which is a heart, at the center of which is a bold number 37. While comforting Becky, Steven discovers a tattoo at the base of her neck: it is the same symbol. And so begins a thrilling descent into a world of crime and murder, a ride wilder than any Steven has taken before.
Why I want to read it: I got this book for review from NetGalley. The cover looked nice and the summary kind of won me. We'll see in the end if it was worth the time :)
Book #4 (if I ever get the chance to squeeze it in)
Title: Taken
Series: The Channie Series
Author: Charlotte Abel
Summary:
Early Praise for Taken:
"The chase scene was to die for ... I literally got chills." -- Karla Hernandez

"Hunter was hilarious and so cute! I laughed out loud at everything he did." -- Jessica Ramirez

"I loved Taken. I couldn't put it down!" -- Samantha Scribner

Overview:
Bound by love and magic. Betrayed by those they trust. Not everyone survives.

Gasp-out-loud action, heart-pounding romance and an OMG ending that leaves you hungry for the next book.

More Praise:
"If you thought Enchantment was a fluke, you're dead wrong. Charlotte Abel has proven she can stand the heat and keep producing magical adventures for her fans to get lost in. I plan to have a front row seat" -- Nicole Passante
Why I want to read it: Because I really want to know what happens with Channie and Josh, aka Valiant Veyjivik