It's Monday again, and the organization freak - a.k.a. me - is struggling with the dilemma which books to read this week. And trust me when I say that I MUST PICK THE TITLES BEFOREHAND, or I'll end up falling behind on reviews and such. Good thing my phone calendar is working alongside, letting me know what is due when. :)) If you have the same troubles, come join me in the Top of the Pile MEME that I host.
Before I post my titles for the week however, let me give you a couple of links:
REVIEW OF REVEALING EDEN by Victoria Foyt
REVIEW OF THE MERCHANT'S DAUGHTER by Melanie Dickerson
REVIEW OF SHADES OF TRUTH by Naomi Kinsman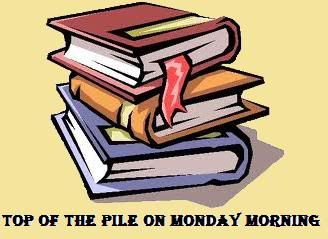 "Top of the Pile on Monday Morning" is a weekly MEME hosted by Vanya D. here on YA Story Teller. It features up to three books that I plan to read for the week.
I am hosting this new MEME, featured every Monday. If you want to participate, you need to do the following things:
1. Either grab the button or paste the MEME in your post;
2. Tell us about the books you're planning to read this week. Include a picture of them. A blurb (or summary) is not necessary, though if you feel like it, you may certainly share it. Please make this a realistic choice, as we wouldn't want to see repeating titles.
3. Let us know why you chose those books exactly.
4. Follow your host, and register in the links below this post.
Thanks!!!
The choices for this week are:
Book #1:
Title:
Enchantment
Series:
The Channie Series
Author:
Charlotte Abel
Summary:
Sixteen year old Channie Kerns leads an idyllic life of seclusion and magic deep in the Ozark Mountains ... until her family is forced to flee for their lives.

They leave everything and everyone behind to start over in Louisville, Colorado. Magic is forbidden while they are in hiding, but Channie can't resist the temptation to enchant a group of local boys. When her overbearing parents catch her flirting with these "sex-crazed, non-magical delinquints," they slap a chastity spell on her to protect her virtue.
The spell is triggered by lust, so just navigating the halls at her new school is an ordeal. She can't even touch a boy she's attracted to without blasting him with a jolt of magical energy that feels like a taser.

When Channie falls in love with Josh Abrim, a BMX racer with dangerous secrets of his own, she rebels against her parents and turns to dark and forbidden magic to break the chastity spell ... with disastrous results.
Why I want to read it: Because I heard very good things about it. I'm already 10% in and truly - it's amazing :)
Book#2:
Title: Invasion
Series: C.H.A.O.S
Author: Jon S. Lewis
Summary:
He didn't ask for the job, but now all that stands between us and chaos... is Colt

Colt McAlister was having the summer of his life. He spent his days surfing and his nights playing guitar on the beach with friends. He even met a girl and got his first car. But everything changes when his parents are killed in a freak accident.

He's forced to leave his old life behind and move to Arizona with his grandfather. The only person he knows at the new high school is a childhood friend named Dani. And Oz, a guy he's sure he's never met but who is strangely familiar.

But what if his parents' death wasn't an accident? His mother, an investigative reporter, was going to expose a secret mind-control program run by one of the world's largest companies. Before she could release the story, what if agents from Trident Biotech made sure she couldn't go public?

Vowing to uncover the truth, Colt gets drawn into a secret world of aliens, shape shifters, flying motorcycles, and invisible gateways.

The Invasion has begun.
Why I want to read it: I had no idea that "Alienation" was the second book to this series, so I got it from Netgalley. And well, I had to get book one before book 2, so there you go. That's my reason. Besides - it sounds cool. Flying motorcycles, eh? Give 'em to me!! :))
Book#3:
Title: Alienation
Series: C.H.A.O.S
Author: Jon S. Lewis
Summary:
After his parents were killed in a car accident, Colt McAllister was drawn into a world he thought only existed in comic books-one where mind control, jet packs, and flying motorcycles don't even scratch the surface.
Along with his best friends Oz and Danielle, Colt is now training at the secret Central Headquarters Against the Occult and Supernatural academy. But strange accidents seem to follow him. . . even with the security of the school grounds. What first seems random soon turns deadly. But who is targeting Colt?
As the alien invasions increase in frequency and force, C.H.A.O.S resources are taxed to the limit and they're forced to utilize the new recruits. In the midst of battle, Colt will discover some startling revelations . . . about himself, his friendship with Oz, and why he has been chosen to defeat this alien attack against earth.
Why I want to read it:
I loved the cover and summary and had to request it from Netgalley. Well - I got it, and it's time I read it :)
How about you? What titles are you planning to read this week??