Hello everybody! Be blessed on a nice Monday morning :))
I wanted to say a HUUUUUUUGE thank you to all of you who followed me on Friday :)) It was amazing to see my stalker list grow to 68!! I might have to think of a 100 giveaway!!! :)))
Well, anyway, I wanted to let you all know, that I completed my reading goal from last week's top of the pile. Isn't that cool?? Well, cooler is that I even exceeded it!!
Check this out:
REVIEW OF BEG FOR MERCY by Shannon Dermott
REVIEW OF SOMETHING WITCHY THIS WAY COMES by Veronica Blade
REVIEW OF OBSIDIAN by Jennifer L. Armentrout
REVIEW OF ALIAS DRAGONFLY by Jane Singer
And let's get in the fun for this week's Top of the Pile!!!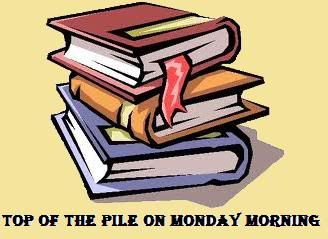 "Top of the Pile on Monday Morning" is a weekly MEME hosted by Vanya D. here on YA Story Teller. It features up to three books that I plan to read for the week.
I am hosting this new MEME, featured every Monday. If you want to participate, you need to do the following things:
1. Either grab the button or paste the MEME in your post;
2. Tell us about the books you're planning to read this week. Include a picture of them. A blurb (or summary) is not necessary, though if you feel like it, you may certainly share it. Please make this a realistic choice, as we wouldn't want to see repeating titles.
3. Let us know why you chose those books exactly.
4. Follow your host, and register in the links below this post.
Thanks!!!
And here are my choices for this week:
Book #1:

Title:
Author: Victoria Foyt
Series:
Save the Pearls
Summary:
Eden Newman must mate before her 18th birthday in six months or she'll be left outside to die in a burning world. But who will pick up her mate-option when she's cursed with white skin and a tragically low mate-rate of 15%? In a post-apocalyptic, totalitarian, underground world where class and beauty are defined by resistance to an overheated environment, Eden's coloring brands her as a member of the lowest class, a weak and ugly Pearl. If only she can mate with a dark-skinned Coal from the ruling class, she'll be safe. Just maybe one Coal sees the Real Eden and will be her salvation her co-worker Jamal has begun secretly dating her. But when Eden unwittingly compromises her father's secret biological experiment, she finds herself in the eye of a storm and thrown into the last area of rainforest, a strange and dangerous land. Eden must fight to save her father, who may be humanity's last hope, while standing up to a powerful beast-man she believes is her enemy, despite her overwhelming attraction. Eden must change to survive but only if she can redefine her ideas of beauty and of love, along with a little help from her "adopted aunt" Emily Dickinson.
Why I want to read it:
Two reasons - I requested it from NetGalley a week or so ago, and have to get on with my reviewing; secondly, I heard some really nice things about this book, and want to see if they're true.
Book #2:
Title:
The Merchant's Daughter
Author:
Melanie Dickerson
Series:
none
Summary:
An unthinkable danger. An unexpected choice.Annabel, once the daughter of a wealthy merchant, is trapped in indentured servitude to Lord Ranulf, a recluse who is rumored to be both terrifying and beastly. Her circumstances are made even worse by the proximity of Lord Ranulf's bailiff---a revolting man who has made unwelcome advances on Annabel in the past.Believing that life in a nunnery is the best way to escape the escalation of the bailiff's vile behavior and to preserve the faith that sustains her, Annabel is surprised to discover a sense of security and joy in her encounters with Lord Ranulf. As Annabel struggles to confront her feelings, she is involved in a situation that could place Ranulf in grave danger. Ranulf's future, and possibly his heart, may rest in her hands, and Annabel must decide whether to follow the plans she has cherished or the calling God has placed on her heart.
Why I want to read it: Firstly, I liked the cover on NetGalley; second - I need to read historical fiction for a GoodReads group challenge.
Book #3:
Title: Shades of Truth
Author: Naomi Kinsman
Series: From Sadie's Sketchbook
Summary:
It's Going to Be a Bear of a Year
Sadie thought she'd have a perfect fresh start when she moved to Eagle's Nest, Michigan, but finding her place in her new school proves harder than she expected. In this divided town, Sadie's father's job mediating between bear hunters and researchers doesn't help her social life. Sadie's art instructor encourages her to explore her beliefs and express herself through her sketchbook, and things improve after Sadie befriends a kind girl from school and a researcher's son---but she can't stop worrying about the bears. As everything swirls around her, Sadie must learn what it means to have faith when you don't have all the answers.
Why I want to read it:
Well, it looks like a pretty light read, and I might need just that kind of thing at the end of the week :)
So, what are you planning to read this week???