So, I guess I was kind of on a roll these past 2 weeks. Yeah, you guessed it. I finished up 4 books this week as well!!! So here are my review links:
Review of MOON SPUN by Marilee Brothers
Review of INK by S.J. Davis
Review of GRAVE MERCY by Robin LaFevers
Review of SHADOW MOON by Marilee Brothers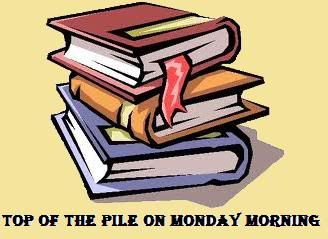 "Top of the Pile on Monday Morning" is a weekly MEME hosted by Vanya D. - a.k.a. me - here on YA Story Teller. It features up to three books that I plan to read for the week.
I am hosting this new MEME, featured every Monday. If you want to participate, you need to do the following things:
1. Either grab the button or paste the MEME in your post;
2. Tell us about the books you're planning to read this week. Include a picture of them. A blurb (or summary) is not necessary, though if you feel like it, you may certainly share it. Please make this a realistic choice, as we wouldn't want to see repeating titles.
3. Let us know why you chose those books exactly.
4. Follow your host, and link back!
Thanks!!!
This week I'm going for the following titles:
Book #1:
Title:
Temptation
Series:
Solitary Tales, Book 3
Author:
Travis Thrasher
Number of pages:
336
Summary:
The third book in the Solitary Tales series for young adults, Temptation follows the soul-wrenching twists of Chris Buckley's journey as he heads deeper into a darkness that threatens all he loves best.

As a reluctant student at Harrington High's summer school, Chris meets a fun-loving senior girl who offers a welcome diversion from Chris's past. Soon Chris no longer searches for the truth about the town of Solitary. He no longer tries to pierce its shadows. He no longer questions his role in its mysteries. He makes a new choice: he runs. What he doesn't realize is that he's running the wrong way-and is very close to being beyond any choices at all.

Travis Thrasher is the author of more than a dozen works of fiction, including Solitary, Gravestone, Isolation and Ghostwriter. His writing is known for its honesty, depth, and surprising twists. Thrasher lives with his wife and daughters in Chicago.
Why I want to read it:

Because I've been postponing it for too long, and it's time I get back to see what Chris has been up to ;)
Book #2:
Title:
Flight of the Stone
Series:
None
Author:
Chris Thompson
Number of Pages:
332
Summary:
Flight of the Stone is a fantasy tale full of drama, humour and action along with a little romance.

A desperate Elliot throws a stone to frighten off his pursuers. His actions ignite an alarming chain of events. Witnessing far more than they bargained for, Elliot's teenage friends Miles and Abbi become drawn into a parallel world laden with excitement, adventure and horror.

As they gradually unlock the hidden secrets of leylines, the three youngsters learn how to travel vast distances in seconds, are terrorised by Fuddles, held captive by the menacing Larc while guided by their virtual mentor, Dylan.

In this other world they discover fascinating things about themselves, the people they live with as well as the world around them. So intense is their journey together they become far more emotionally attached than they ever thought likely.
Why I want to read it:
Because I just have to read it.
Book #3:
Title:
Half-Black Ink
Series:
The Alexa Montgomery Saga, Book 2
Author:
Heather Gordon
Number of Pages:
245
Summary:
In the past few weeks Alexa Montgomery has had her entire world flipped upside down. She's gone from living a semi-normal teenage life to a life full of vampires and werewolves who all expect her to deliver them from the control of an evil dictator.

Alexa is the last of her kind; a Sun Warrior, and now she has left the safety of Two Rivers to search for her mother, but she's left her sister behind to do so, and Nelly is the one person that she was told that she must always protect. Kayden, a vampire who is Alexa's other half, has followed her on her journey. But, secrets are about to come out, relationships will break and danger lies just up ahead. Will Alexa be able to get through all of this and make it out alive? And, will she be able to protect Nelly from danger when she is so far away?
Why I want to read it:
Because I was asked to, and because I'd love to see if the series has improved.
What's on your reading list this week??