Yeah, ok. I know it's not morning, but what can I say, I couldn't get to this earlier. Anyway, I'm particularly happy with my reading list this past week because instead of the 3 books I had in mind, I ended up finishing 4. I am absolutely thrilled with my super skillz!! LOL
Oh yeah! And there was this one book that I had left over from the week before, so that makes it 5 books in one week. Awesome, no?
Here are my reviews:
Review of BLUE MONDAY by Nicci French
Review of WHITE WITCH by Trish Milburn
Review of MOONSTONE by Marilee Brothers
Review of MOONRISE by Marilee Brothers
Review of INTERRUPTED by Rachel Coker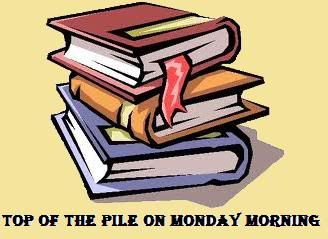 "Top of the Pile on Monday Morning" is a weekly MEME hosted by Vanya D. here on YA Story Teller. It features up to three books that I plan to read for the week.
I am hosting this new MEME, featured every Monday. If you want to participate, you need to do the following things:
1. Either grab the button or paste the MEME in your post;
2. Tell us about the books you're planning to read this week. Include a picture of them. A blurb (or summary) is not necessary, though if you feel like it, you may certainly share it. Please make this a realistic choice, as we wouldn't want to see repeating titles.
3. Let us know why you chose those books exactly.
4. Follow your host, and link back!
Thanks!!!
This week I'm going for the following titles:
Book #1:
Title:
Moon Spun
Series:
Unbidden magic, Book 3
Author:
Marilee Brothers
Number of pages:
246
Summary:
Junior's back from Mexico with his movie-star entourage. Beck's using his half-demon charms to "heal" a new girl. Mom's still wacky and now she's dating Principal Hostetler. High school is still an obstacle course of drama queens, bullies and nutjobs. The Trimarks are still a menace, and the moonstone pendant has revealed even more mind-boggling powers. In other words, Allie Emerson's life as the Girl Voted Least Likely To Save The World From Evil has gone from Weird to Super-Charged Super-Weird, and it's about to get even weirder. You're a faery princess. So says the mysterious Ryker, whose handsome talents include turning himself into a hawk. By the way, he and Allie are destined to marry. In faery land--Boundless. If they can save it from forces even more deadly than Trimarks and high school. The third book in the Unbidden Magic series plunges readers into a rich other-world of danger, humor, romance, fable, fairytale and magical destiny.
Why I want to read it:

Because of Junior Martinez!!! And of course the weird turn of events where faeries get in the picture :))
Book #2:
Title:
Grave Mercy
Series:
His Fair Assassin, Book 1
Author:
Robin LaFevers
Number of Pages:
564 (HUGE!!!!! Better be worth it!!!!)
Summary:
Seventeen-year-old Ismae escapes from the brutality of an arranged marriage into the sanctuary of the convent of St. Mortain, where the sisters still serve the gods of old. Here she learns that the god of Death Himself has blessed her with dangerous gifts—and a violent destiny. If she chooses to stay at the convent, she will be trained as an assassin and serve as a handmaiden to Death. To claim her new life, she must destroy the lives of others.

Ismae's most important assignment takes her straight into the high court of Brittany—where she finds herself woefully under prepared—not only for the deadly games of intrigue and treason, but for the impossible choices she must make. For how can she deliver Death's vengeance upon a target who, against her will, has stolen her heart?
ether hanging on to the past is worth losing her chance to be loved.
Why I want to read it:
Because seriously... assassin NUNS??? Heck yeah!!!
Book #3:
Title:
Ink
Series:
None
Author:
S.J. Davis
Number of Pages:
no information
Summary:
"It's a good day to die."
My mother holds my arm fiercely.
"But as you grieve for me, listen for
the voices.
Then, you must get the ink."

Sparrow stumbles between two worlds,
light and dark, love and hate, what is real
and what is in her mind.

When her mother dies on the Reservation,
Sparrow's world is shadowed with anger
and narrowed by pain. The voices arrive,
but are they real? And how can a tattoo
make her stronger?
Why I want to read it:
It's for R2R for one of my Goodreads groups. I heard some negative things about it, but I'm dying to prove them wrong. :))
What's on your reading list this week??