Here is a quick recap of my reading last week, and the links to my reviews:
Review of STARTERS by Lissa Price
Review of A DEAD RED HEART by R.P. Dahlke
Review of THE NIGHTMARE GARDEN by Caitlin Kittredge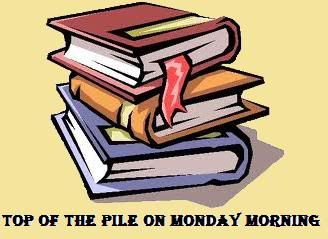 "Top of the Pile on Monday Morning" is a weekly MEME hosted by Vanya D. here on YA Story Teller. It features up to three books that I plan to read for the week.
I am hosting this new MEME, featured every Monday. If you want to participate, you need to do the following things:
1. Either grab the button or paste the MEME in your post;
2. Tell us about the books you're planning to read this week. Include a picture of them. A blurb (or summary) is not necessary, though if you feel like it, you may certainly share it. Please make this a realistic choice, as we wouldn't want to see repeating titles.
3. Let us know why you chose those books exactly.
4. Follow your host, and register in the links below this post.
Thanks!!!
This week I'm going for the following titles:
Book #1
Title:
Fate Fixed
Series:
Erris Coven #1
Author:
Bonnie Wheeler
Summary:
When Lexie Anderson's mother suddenly announces she is marrying a Romanian immigrant, Lexie willingly leaves behind her busy life in Connecticut for her penance in "The Moose Capital of the World." Small town living is strange enough, now Lexie must cope with her overbearing stepfamily monitoring her every move. They disappear into the woods at night and keep a strange secret locked in their shed. Her once calm mother is now having violent outbursts and Lexie's little sister is hearing sinister sounds coming from the forest behind their new home. Lexie's biggest surprise comes when she discovers the boy she has been dreaming about since her accident is living in Maine. Despite Torin's questionable reputation, Lexie cannot resist the physical and emotional attraction pulsating between them. Animals and people in town are turning up dead and Lexie learns the strange new world she lives in has real life monsters. Just when she decides she wants to be with Torin forever, she must fight to protect her mother and sister from being harmed by a formidable evil.
Why I want to read it:
Well, first of all, the cover looks really enchanting. And second of all, I love witch/coven stories, so I really hope I'd enjoy this book :)
Book #2
Title:
The Book of Lost Fragrances
Series:
Reincarnationist #4
Author:
M.J.Rose
Summary:
A sweeping and suspenseful tale of secrets, intrigue, and lovers separated by time, all connected through the mystical qualities of a perfume created in the days of Cleopatra—and lost for 2,000 years.

Jac L'Etoile has always been haunted by the past, her memories infused with the exotic scents that she grew up surrounded by as the heir to a storied French perfume company. In order to flee the pain of those remembrances—and of her mother's suicide—she moves to America, leaving the company in the hands of her brother Robbie. But when Robbie hints at an earth-shattering discovery in the family archives and then suddenly goes missing—leaving a dead body in his wake—Jac is plunged into a world she thought she'd left behind.

Back in Paris to investigate her brother's disappearance, Jac discovers a secret the House of L'Etoile has been hiding since 1799: a scent that unlocks the mysteries of reincarnation. The Book of Lost Fragrances fuses history, passion, and suspense, moving from Cleopatra's Egypt and the terrors of revolutionary France to Tibet's battle with China and the glamour of modern-day Paris. Jac's quest for the ancient perfume someone is willing to kill for becomes the key to understanding her own troubled past.the ancient perfume someone is willing to kill for becomes the key to understanding her own troubled past.
Why I want to read it:
To be honest, I haven't read any of the 3 prequel books, but the summary and title sound so intriguing, I couldn't stop myself from requesting the book from Netgalley. Now that I have it, I'll be reading it with enthusiasm (hopefully!).
Book #3
Title:
Blue Monday
Series:
Frieda Klein #1
Author:
Nicci French
Summary:
Monday, the lowest point of the week. A day of dark impulses. A day to snatch a child from the streets . . .

The abduction of five-year-old Matthew Farraday provokes a national outcry and a desperate police hunt. And when a picture of his face is splashed over the newspapers, psychotherapist Frieda Klein is left troubled: one of her patients has been relating dreams in which he has a hunger for a child. A child he can describe in perfect detail, a child the spitting image of Matthew.

Detective Chief Inspector Karlsson doesn't take Frieda's concerns seriously until a link emerges with an unsolved child abduction twenty years ago and he summons Frieda to interview the victim's sister, hoping she can stir hidden memories. Before long, Frieda is at the center of the race to track the kidnapper.

But her race isn't physical. She must chase down the darkest paths of a psychopath's mind to find the answers to Matthew Farraday's whereabouts.

And sometimes the mind is the deadliest place to lose yourself.
Why I want to read it:
Well, I thought it sounded like a nice mystery. So, ta-da!
What books will you be reading this week??