Here is a quick recap of my reading last week, and the links to my reviews:
Review of FATE FIXED by Bonnie Wheeler
Review of THE BOOK OF LOST FRAGRANCES by M.J.Rose
Yeah, I know, I wasn't able to finish all my assigned reads for the weak. "Blue Monday" will have to be transferred over to my list of readings for this week. It sucks, but I hope to be able to finish it by the end of today, so I'd be free to read my other titles, and of course to WRITE, which I really need to do.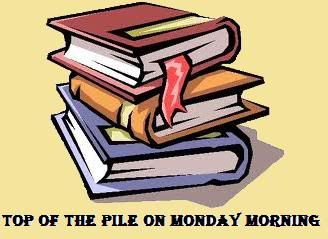 "Top of the Pile on Monday Morning" is a weekly MEME hosted by Vanya D. here on YA Story Teller. It features up to three books that I plan to read for the week.
I am hosting this new MEME, featured every Monday. If you want to participate, you need to do the following things:
1. Either grab the button or paste the MEME in your post;
2. Tell us about the books you're planning to read this week. Include a picture of them. A blurb (or summary) is not necessary, though if you feel like it, you may certainly share it. Please make this a realistic choice, as we wouldn't want to see repeating titles.
3. Let us know why you chose those books exactly.
4. Follow your host, and register in the links below this post.
Thanks!!!
This week I'm going for the following titles:
Book #1:
Title:
White Witch
Series:
none
Author:
Trish Milburn
Number of pages:
188
Summary:
Witchcraft Is Her Family's Business.No One Quits The Family And Lives To Tell About It. "Jax" Pherson has power, enough power to know her future will end in service to the dark coven her father controls. Unless she can stay hidden in a small community in the mountains of North Carolina. She must find a way to live without magic and deny the darkness she feels welling up inside her—the same dark power that fuels the covens around the world. All she wants is a normal life. A boyfriend. Friends. Some place to belong, but all too soon Jax's barely begun new life hangs in the balance when she discovers that the boy she's attracted to is sworn to kill her kind. He's a hunter with good reason to kill everything that goes bump in the night. Even the most fleeting use of her power is tantamount to signing her death warrant and will bring both hunter and coven down on her. But can she walk away when her friends are threatened by an old evil? Something created by the magic of witches? Jax's only hope of survival is to convince the boy she loves to forget everything he's ever been taught and help her find a way to fight the covens. To believe there is some good in her.
Why I want to read it:

Because the cover looks awesome, and the summary made me want to just grab it and read it :))
Book #2:
Title:
Interrupted
Series:
None
Author:
Rachel Coker
Number of Pages:
320
Summary:
Can love really heal all things? If Sam Carroll hadn't shown up, she might have been able to get to her mother in time. Instead, Allie Everly finds herself at a funeral, mourning the loss of her beloved mother. She is dealt another blow when, a few hours later, she is sent from Tennessee to Maine to become the daughter of Miss Beatrice Lovell, a prim woman with a faith Allie cannot accept. Poetry and letters written to her mother become the only things keeping Allie's heart from hardening completely. But then Sam arrives for the summer, and with him comes many confusing emotions, both toward him and the people around her. As World War II looms, Allie will be forced to decide whether hanging on to the past is worth losing her chance to be loved.
Why I want to read it:
Because I love real love stories, and this one sounds like IT!!!
Book #3:
Title:
Moonstone
Series:
Unbidden Magic, Book 1
Author:
Marilee Brothers
Number of Pages:
236
Summary:
A sickly mom. A tiny house trailer. High school bullies and snarky drama queens. Bad-guy dudes with charming smiles. Allie has problems. And then there's that whole thing about fulfilling a magical prophecy and saving the world from evil. Geez. Welcome to the sad, funny, sometimes-scary world of fifteen-year-old Allie Emerson, who's struggling to keep her and her mom's act together in the small-town world of Peacock Flats, Washington. An electrical zap from a TV antenna sets off Allie's weird psychic powers. The next thing she knows she's being visited by a hippy-dippy guardian angel, and then her mysterious neighbor, the town "witch," gives her an incredible moonstone pendant that has powers only a good-hearted "Star Seeker" is meant to command. "Who, me?" is Allie's first reaction. But as sinister events begin to unfold, Allie realizes she's got a destiny to live up to. If she can just survive everyday life, in the meantime.
Why I want to read it:
Bad-guy dudes? Witches? Saving the world from evil? Of course I want to read it!!!
What's on your reading list this week??